The Skratchers card comes in 4 colors including blue, purple, red or green. We also customize each Skratchers card with the name and logo (optional) of your group, so your donors know which cause they are supporting. The cards fold into 3 and fit conveniently into your pocket.
Skratchers Card

Click on card thumbnail below to view larger image:

Your Logo on the Cover

Click on images below to view the larger sample covers:


Coupons
To see which coupon offers you can have for your fundraiser, simply select your State:

To read more information on coupons click here.


Sample Kit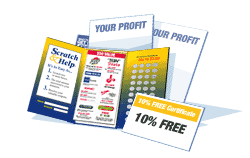 Your FREE kit includes valuable information to help you get started:

1. 1 Sample Skratchers Card
2. Profit sheet & other Info
3. Easy Start Order Form
4. Gift Certificate for 10% Free Cards

---