Our Affiliates..
I have averaged $1,000 net commission EACH MONTH, over the first 8 months. No other affiliate program has come close.
Andrew Harvey


We make an extra $250 - $300 average per month- it adds up and it pays a lot of bills. It's the first affiliate program that has actually produced quality results.
Linda Hotovy


It fits perfectly with our web site. Coaches and athletic directors come to our site looking for products and services - Skratchers provides them with the fundraising tools so they can actually afford the latter.
AthleticBid.com


To find out why these and other affiliates have been so successful, feel free to call myself, Jolian Grant, president of Skratchers, at toll-free 1-888-800-9506.

Why Become a Skratchers Affiliate?
Skratchers has helped over 7,000 groups in the last 5 years raise a potential of $5.6 million profit. Schools, teams, leagues, church groups, scouts and other non-profit groups are constantly trying to raise funds. If you have a web site that appeals to any of these markets, you should consider the Skratchers Affiliate Program.
In addition to making an industry-high 20% commission on all sales, Skratchers will help put extra money into the hands of your visitors so they can buy even more of your products and services!

How Much Can You Make Per Month?
| | |
| --- | --- |
| # Of Units Sold/Month | Your 20% Commission |
| 25 | $100 |
| 50 | $200 |
| 100 | $400 |
| 250 | $1000 |
| 500 | $2000 |

How Do You Become a Skratchers Affiliate?
Simply place any mix of Skratchers banners, pop-ups, and advertorials on your web site. Better placement will lead to more commissions. See below for a few banner samples:

Large banner:

Small banner: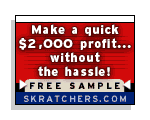 Pop-up:

How Do Your Sales Get Tracked?
You get rewarded for all of your marketing efforts.

1. When you sign-up to become an affiliate, we'll provide you with your own REFERRAL code, which will be tagged on all of the Skratchers banners that you place on your web site.
2. When one of your web site visitors clicks on any of the banners and enters the Skratchers site, we immediately know that they came from your site. When they request a free sample, it is noted in our database that this lead belongs to your company.
3. When they call back to order, we look them up in the database and process their order.
4. At the end of each month, we print out your sales and commissions report and issue you a check representing 20% of all Skratchers sales.

Want to get more info on the Affiliate Program?